Toothpaste R.O.C.S.
BABY with quince extract
for babies from 0 to 3 years of age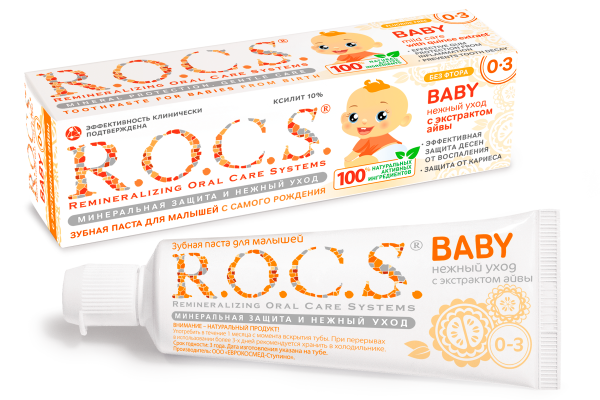 INDICATIONS FOR USE
INDICATIONS FOR USE
Unique toothpaste** designed for baby teeth care from the earliest age onwards. Natural components - chamomile extract and alginate produced from kelp - ensure a marked anti-inflammatory effect.

SAFE WHEN SWALLOWED!
Does not contain fluoride, flavorants, colorants, sodium lauryl sulphate or parabens.

**The toothpaste formula is protected by various patents

*Confirmed during laboratory and clinical trials
Active ingredients
Active ingredients
XYLITOL (10%) AND ALGINATE known for anti-allergic and anti-inflammatory delicately care for the gums during the teething period and reduce risk of allergy.
QUINCE EXTRACT  produced from kelp cares for the gums during the teething period and prevents inflammation, reduces discomfort. The pleasant taste of fruit compote for pleasurable hygiene.
HYPOALLERGENIC PRODUCT.*
*Confirmed during laboratory and clinical trials
Mechanism of action
Mechanism of action
Thanks to a high concentration of xylitol, it ensures a high degree of protection against caries*, as well as possesses prebiotic properties, normalizing the oral cavity microflora makeup*, which is especially important for treating intestinal dysbiosis and oral candidiasis.

*Confirmed during clinical trials.
Ingredients
Ingredients
Aqua, Glycerin, Silica, Xylitol (10%), Propylene Glycol, Pyrus Cydonia Fruit extract, Potassium Alginate, Hydroxyacetophenone, Sodium Benzoate, Potassium Sorbate, Xanthan Gum, o-Cymen-5-ol.
When choosing the ingredients for our toothpastes, we prefer to use natural and mineral raw materials. we use mostly organic ingredients that are neutral for the human body, combine well with each other and have proven their effectiveness in preventing caries
WHY DO R.O.C.S. TOOTHPASTES NOT CONTAIN FLUORIDE?
Mechanism
XYLITOL protects against cariogenic bacteria
Calcium strengthens enamel, returns to it natural whiteness
Natural extract has pronounced antimicrobial and anti-inflammatory properties.